*Waiting on Wednesday is a weekly meme that is hosted
Breaking the Spine
.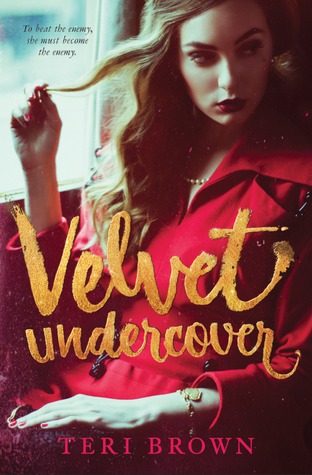 Velvet Undercover
Published: October 20th 2015
Publisher: Balzer + Bray
Samantha Donaldson's family has always done its duty for the British Crown. In the midst of World War I, seventeen-year-old Sam follows in their footsteps, serving her country from the homefront as a Girl Guide and messenger for the intelligence organization MI5. After her father disappears on a diplomatic mission, she continues their studies of languages, high-level mathematics, and complex puzzles and codes, hoping to make him proud.

When Sam is asked to join the famed women's spy group La Dame Blanche she's torn—this could be the adventure she's dreamed of, but how can she abandon her mother, who has already lost a husband to the war? But when her handlers reveal shocking news, Sam realizes there's no way she can refuse the exciting and dangerous opportunity.

Her acceptance leads her straight into the heart of enemy territory on a mission to extract the most valuable British spy embedded in Germany, known to the members of LDB only as Velvet. Deep undercover within the court of Kaiser Wilhelm II, Samantha must navigate the labyrinthine palace and its many glamorous—and secretive—residents to complete her assignment. To make matters worse she finds herself forming a forbidden attraction to the enemy-a dangerously handsome German guard. In a place where personal politics are treacherously entangled in wartime policy, can Samantha discover the truth and find Velvet before it's too late…for them both? - Goodreads Summary
I'm really excited for this book because spy books are a weakness of mine, and this one looks wonderful. Plus it has a lovely cover and the blurb that says
to beat the enemy, she must become the enemy
, is really intriguing.
What is your "waiting on" pick for this week?