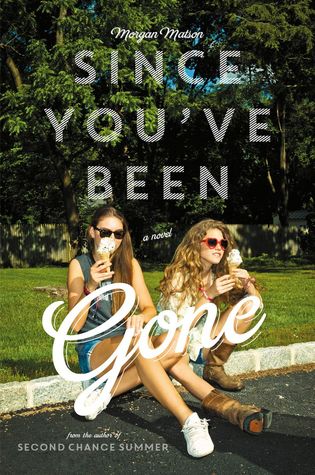 Second Chance Summer
Published:
May 6th 2014
Publisher:
Simon & Schuster
Purchase:
Amazon
/
Barnes&Noble
/
Book Depository
It was Sloane who yanked Emily out of her shell and made life 100% interesting. But right before what should have been the most epic summer, Sloane just…disappears. All she leaves behind is a to-do list.

On it, thirteen Sloane-inspired tasks that Emily would normally never try. But what if they could bring her best friend back?

Apple picking at night? Okay, easy enough.

Dance until dawn? Sure. Why not?

Kiss a stranger? Um...

Emily now has this unexpected summer, and the help of Frank Porter (totally unexpected), to check things off Sloane's list. Who knows what she'll find?

Go skinny-dipping? Wait...what?
For some reason I never realized that Morgan wrote both
Second Chance Summer
and
Amy and Roger's Epic Detour
, both which I really enjoyed reading, but it was a pleasant surprise to find that out before I got started.
This book was sweet and charming, with cute playlists within the story that only added to the overall summer read feeling it gave me. There was romance and friendship, both of which were well-developed and adorable.
Emily was a great protagonist, and I easily fell into her narrative since I saw parts of myself in her, especially how she acted when she felt uncomfortable. Falling back into someone else's shadow was something I knew all too well, from experience, and I felt her loss of Sloane keenly.
The introduction of her summer friends, from the ever-present Frank to endearing Collins and sweet Dawn, I loved them all, and the mysterious list that Sloane wrote that binded them all together. They were fun to read about and I can only hope that despite the spontaneous manner in which they fell into pals, they'll somehow be friends pages after this book ended. [highlight for spoiler]
I know life isn't that perfect, but I am being the ever optimistic girl in saying that Dawn and Emily somehow make up and they go on double dates along with Frank and Collins. A girl can wish right?
The romance was cute and I adored the events that tied it together, from the playlists to the running and everything. It's one of those things you can't help but want to happen even if you know it's not quite as simple as you two are cute together please kiss now. Or maybe it is hah.
Beckett, Emily's younger brother was alternatively lovable and immature, the way younger brothers will be and it gave me a nostalgic feel of my own brother when he was younger.
And of course the elusive Sloane, the reason this even began. At times I wanted to be mad at her and I was worried that the mystery behind her wouldn't be solved and we wouldn't get any closure, but I'm glad we did, and the ending was more than satisfying regarding her.
But in the end, this story is about Emily and her summer. The summer that was unexpected and all kinds of bittersweet with a sprinkle of whimsical. I throughly enjoyed it and its poignant touch.
I looked like someone who'd had a night, and had a story to tell about it. Which was, I realized as I collected my dress and heels in my arms and made my way, yawning, to the front door in the cool early light, exactly what happened.
My Rating: ★★★★