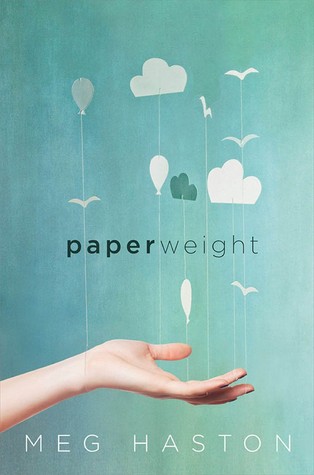 Published:
July 7th 2015
Publisher:
HarperTeen
Purchase:
Amazon
/
Book Depository
/
Barnes & Noble
Goodreads: Seventeen-year-old Stevie is trapped. In her life. In her body. And now in an eating-disorder treatment center on the dusty outskirts of the New Mexico desert.

Life in the center is regimented and intrusive, a nightmare come true. Nurses and therapists watch Stevie at mealtime, accompany her to the bathroom, and challenge her to eat the foods she's worked so hard to avoid.

Her dad has signed her up for sixty days of treatment. But what no one knows is that Stevie doesn't plan to stay that long. There are only twenty-seven days until the anniversary of her brother Josh's death—the death she caused. And if Stevie gets her way, there are only twenty-seven days until she too will end her life.

In this emotionally haunting and beautifully written young adult debut, Meg Haston delves into the devastating impact of trauma and loss, while posing the question: Why are some consumed by their illness while others embark on a path toward recovery?
This is a difficult book to review, because I cannot describe precisely whether I loved or hated it. It's sharp, a hard book to love, and the material makes it a difficult book to stomach. It covers some serious issues, including eating disorders, death, difficult and ambiguous relationships, and self-harm.
Stevie is a girl with only one goal in mind. To die, to pay for the death
she
caused: her brother.
At first, I was admittedly worried that I would not like this book. Stevie is an uncomfortable character, hard to connect to with, until you really see past the barriers and anger and self-hatred that she has which didn't happen until I was midway through the book. Once I became invested in the story, in the backstory of Stevie and her brother Josh's death, this book grew on me until I was outright tearing up as the end neared.
While seeing Stevie face her disorder, this book offered a glimpse at the other girls, in the various states and stages, especially Stevie's bunkmate Ashley. From the girls that are recovering to the ones who are desperately holding on, it felt all too real and haunting to me. The self-hatred and the shattered convictions that these girls hold broke my heart.
The focused look at Stevie's character and the carefully cultivated flashbacks to her childhood, to her relationship with her mother sheds a light on who she is and the way she thinks. It hurt to read but at the same time, it was an important part of the book.
The most illuminating point of this book is the tangled and toxic relationship between Stevie and her friend Eden. We never meet her, but Eden plays a vital role in Stevie's past, and in the ultimate tragedy of Josh's death. I can't say much more without spoiling the book, but the letter that Stevie writes to her was one of my favorite scenes in this book.
Finally, what shone in this book for me is the relationship she had with Josh. Her brother who loved her and was there for her, until the day he was gone. The small snippets of the daily interactions between them made me smile fondly in the beginning, and the guilt that weighs Stevie hurt. When the whole story behind how he died came out, I had to admit I cried because it was heartbreaking. And Stevie, caught in the shattering aftermath of it, I can understand why she became who she was at the beginning of the book.
This isn't an easy book to read, but from the start, Haston managed to give an unflinching and stark view of the mental and physical complications that come from eating disorders. They're not glamorized or glossed over, and it's not cheerfully optimistic or hopeful when it comes to the individuals.
This book is raw and vulnerable, wringing an emotional dishrag out of me, and I was truly touched by it. It was honest and I can say that it has made a lasting impact on me.
A quick note at the end: this book does have a scene involving self-harm that could prove triggering and thus should be read with caution.
Thank you to Epic Reads for the advance copy of this book.
My Rating: ★★★ (3.5 stars)