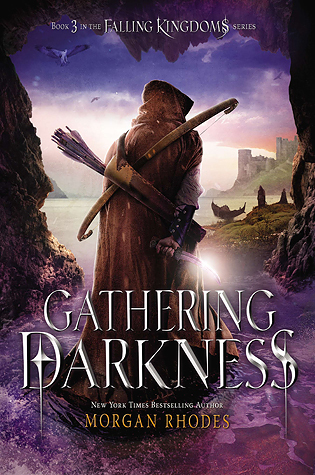 Published:
December 9th 2014
Publisher:
Razorbill
Purchase:
Amazon
/
Barnes&Noble
/
Book Depository
Goodreads: Prince Magnus has just witnessed torture, death, and miracles during the bloody confrontation that decimated the rebel forces. Now he must choose between family and justice as his father, the cruel King Gaius, sets out to conquer all of Mytica. All Gaius needs now are the Kindred—the four elemental crystals that give godlike powers to their owner. But the King of Blood is not the only one hunting for this ancient, storied magic. . .

The Kraeshians join the hunt. Ashur and Amara, the royal siblings from the wealthy kingdom across the Silver Sea, charm and manipulate their way to the Kindred, proving to be more ruthless than perhaps even the King of Blood himself.

The rebels forge ahead. Princess Cleo and vengeful Jonas lead them, slaying with sweetness, skill, and a secret that can control Lucia's overpowering magic—all so they can use the Kindred to win back their fallen kingdoms.

The Watchers follow Melenia out of the Sanctuary. They ally in the flesh with King Gaius, who vows to use Lucia's powers to unveil the Kindred.
*Spoilers from
Falling Kingdoms
and
Rebel Spring
may follow, so proceed with caution.
I was admittedly a bit worried with this book going in. I loved the first book but was let down a bit by the second book in this series, Rebel Spring, due to the fact that I did not really enjoy certain chapters because of the shifting povs. I loved the story itself, this was just a minor point.
Thankfully,the multi-pov aspect of this one was a vast improvement over the second, namely since I felt like it milked a lot more from the main cast of four characters, especially my favorites Magnus, Cleo, and Jonas. Like the second book, I disliked Lucia, but I do like the way her character plays the important role of creating conflict and moving the plot along, it's a shame that she's not very likable for me.
Back to my favorite characters; Cleo, the princess who lost her rightful throne and family, only to be engaged to the last person she wanted. Cleo is a great character, who has grown on me much from the first time I read about her as the spoiled princess in the first book. She is headstrong, clever, determined, and as I read about her, I could not help but cheer her on as she keeps her head high in the world of high stakes and danger. She is fearless and loyal, a pretty head with much more than a pretty brain and heart to suit.
Then there's Magnus Damora, the heir apparent to the cruel king with a seemingly ice-cold heart. He's complex, and has been my utter favorite character since the first book because despite the climate he's grown up in with his father being a ruthless king, he still has forged out his own destiny, or at least, he's in the process of doing so. Ambitious and fierce, driven by his own desires, he is a deadly guy if crossed, but underneath this armor is a young man who cannot stop his heart from feeling things all too well despite his best efforts.
Unsurprisingly, there is a lot of fiery emotion between Magnus and Cleo, since they are married, which made up my favorite part of this book. It was a lot of fun reading the semi-antagonistic relationship that they have with each other.
And of course there is Jonas, the rebel with a lion's heart and a formidable sense of courage and determination. He is another who has lost his land to Gaius, the ruthless king and Magnus's father. He is a loyal and dedicated young man and the way he has matured since
Falling Kingdoms
makes me immensely proud of him and the crew he has collected.
Lucia is a different matter. Unlike the other three main characters, she isn't quite likable, but her immense gift of magic is the lifeblood of the events that connect these four characters. She's powerful yet a bit naive, and her powers are tied to a awe-inspiring destiny far bigger than any could imagine. So powerful, that it's quite possible even she cannot control them. Her character is interesting, and while I am invested in how she develops, she doesn't quite pull at my heartstrings as the others do.
Besides the main cast, there are other secondary characters who play important roles in the unfolding of events in this book, contributing to the gut-wrenching twists that Morgan writes and executes so well. In addition, she manages to capture my heart with these characters, making the emotional blows that much stronger if/when a character dies, which is quite unpredictable.
The plot itself is a tale of shifting politics, the power struggles between some key characters, and the ensuing consequences. It's engrossing and I was propelled to keep reading long after I'd told myself I would stop. There was bloodshed, violence, betrayal, romance (in quite unexpected places as well as the expected ones), good old political intrigue, and fantastic quotable material.
Believe in magic. Believe in the impossible.
This series is not one to miss: it's fabulously well-crafted and if the characters aren't all likable, they are certainly fascinating, and you will not regret reading it. I adored it and I can't quite believe there are still three more books to go because that is going to be a lot of waiting time sadly.
My Rating: ★★★★