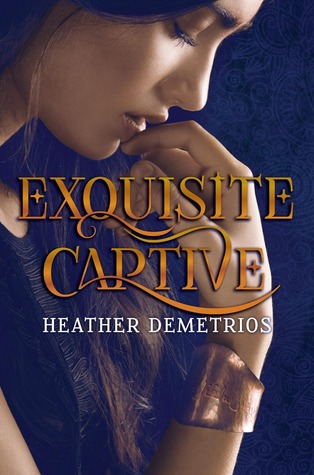 Published:
October 7th 2014
Publisher:
Balzer+Bray
Purchase:
Amazon
/
Barnes&Noble
/
Book Depository
Goodreads: Nalia is a jinni of tremendous ancient power, the only survivor of a coup that killed nearly everyone she loved. Stuffed into a bottle and sold by a slave trader, she's now in hiding on the dark caravan, the lucrative jinni slave trade between Arjinna and Earth, where jinn are forced to grant wishes and obey their human masters' every command. She'd give almost anything to be free of the golden shackles that bind her to Malek, her handsome, cruel master, and his lavish Hollywood lifestyle.

Enter Raif, the enigmatic leader of Arjinna's revolution and Nalia's sworn enemy. He promises to free Nalia from her master so that she can return to her ravaged homeland and free her imprisoned brother—all for an unbearably high price. Nalia's not sure she can trust him, but Raif's her only hope of escape. With her enemies on the hunt, Earth has become more perilous than ever for Nalia. There's just one catch: for Raif's unbinding magic to work, Nalia must gain possession of her bottle…and convince the dangerously persuasive Malek that she truly loves him. Battling a dark past and harboring a terrible secret, Nalia soon realizes her freedom may come at a price too terrible to pay: but how far is she willing to go for it?
I was expecting to like this book, but it ended up being one of my favorite fantasy reads this year.
Exquisite Captive
is a book that is as exquisite as its cover. This book follows the tale of a jinn with a haunted past, the cruel shackles that tie her to her ruthless master, and a revolutionary leader who is the last person she should trust.
Nalia is a survivor and a character who struggles constantly between the reality she lives in and the past she can never forget. Bound to obey Malek, the only thing that keeps her together is the thought of her brother. Powerful and enchanting, she is the last of a truly great line of jinn, but longs for freedom more than anything else.
She was the roar and the whisper and the stillness. She was nothing. She was everything.
I connected strongly with Nalia, particularly to her devotion to her younger brother and I admired her tenacity in the face of her captive state. Despite her awe-inspiring power, she is tormented by her past and the struggle of submitting to her fate. Raif gives her a chance to gain everything she has ever wanted and it was hard not to get caught up in the mind games she must play to reach her goal.
This is where we get to the part I enjoyed the most in this book. While the romance in this book was sweet and touching, the highlight for me was not this, but the convoluted relationship between Nalia and her master Malek.
The premise alludes to the terrible way that Malek has treated Nalia and the complex nature of the bond that these two characters have, but reading it, there is also another side to this relationship, one that is dangerous in nature for the vulnerable Nalia. And Demetrios does an excellent job at showing the dangers of an abusive relationship and the confusion that comes with it, without glamorizing or romanticizing the scenario. It is compelling to read about Malek and his contradictory treatment of Nalia, and how he truly seems to believe that there is room for a romantic bond to blossom between the two of them. It's twisted and toxic, yet when you are blurring the lines, how far can you go before you go
pretend
and
reality
are indistinguishable?
She had to find her way out before she got lost in it forever.
On the other hand, the romance in this book was one that I did find myself rooting for, even if it didn't quite capture my interest as strongly as Malek's role did. Nalia and Raif are both lovely characters, both driven by their passion and ideals. It was
swoon-worthy
, and It's heartbreaking and hopeful, the way they connect, and I hope to see more of it in the next book.
It was an apology written as a love letter, sealed with fierce hope.
One thing to note though, since this book is written in third person, we do alternate between Nalia and Raif, although it is mostly Nalia's POV that we see. And there are chapters in between that which deal with the villain's POV, which could get a bit tedious after a while, though the beautiful writing did make it
mostly
worth my while.
My Rating: ★★★★★