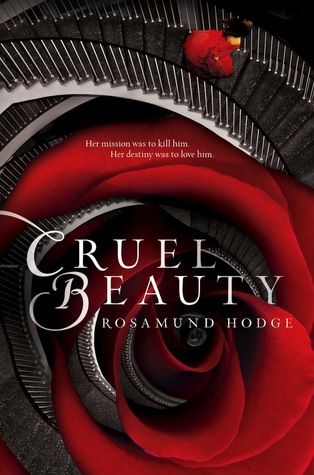 Published:
January 28th 2014
Publisher:
Balzer + Bray
Purchase:
Amazon
/
Barnes&Noble
/
Book Depository
Goodreads: Since birth, Nyx has been betrothed to the evil ruler of her kingdom-all because of a foolish bargain struck by her father. And since birth, she has been in training to kill him.

With no choice but to fulfill her duty, Nyx resents her family for never trying to save her and hates herself for wanting to escape her fate. Still, on her seventeenth birthday, Nyx abandons everything she's ever known to marry the all-powerful, immortal Ignifex. Her plan? Seduce him, destroy his enchanted castle, and break the nine-hundred-year-old curse he put on her people.

But Ignifex is not at all what Nyx expected. The strangely charming lord beguiles her, and his castle-a shifting maze of magical rooms-enthralls her.

As Nyx searches for a way to free her homeland by uncovering Ignifex's secrets, she finds herself unwillingly drawn to him. Even if she could bring herself to love her sworn enemy, how can she refuse her duty to kill him? With time running out, Nyx must decide what is more important: the future of her kingdom, or the man she was never supposed to love.
I had mixed reviews about this book, so I was a bit wary about reading this, but I ended up enjoying it very much. It's a retelling of Beauty & the Beast, but darker, with more moral ambiguity.
Nyx, our main character, is a girl filled with surprising bitterness. Which could be expected, since her father essentially sacrificed her for
the greater good
, and pretending that it is fine, that they are a happy family, has taken a toll on her, poison seeping into her heart. She's not quite the girl with kindness overflowing out of her like the Disney version of the tale, but it makes her a much more intriguing and well-developed character. Her thoughts can be quite venomous, more suiting of an antagonist than a protagonist, but there is something tenacious and brutally honest about her that I really liked.
All my life I had bitten back cruel words and swallowed down hatred.
Forced to marry a monster, Nyx is more than surprised when she meets Ignifex, our
villian with a charming tongue
, who is definitely not the kind of person you would expect. He has a wicked edge to him, but there is something almost disarming about him that lures Nyx in, making her
intrigued.
Reminiscent of Bluebeard, he has had wives in the past, all
deceased
now of course, but Nyx is determined to win, to kill and defeat him so that their town will be free of the demons that haunt them.
"Nyx Triskelion, do you want to guess my name?"
"What's there to guess? I already know you're a monster."
While the overarching plot of this book was a bit slow, the build-up between the characters made the book was marvelous, and it made the other plodding parts of it worth my while. This book may have been a bit romance-heavy, but oh my it was a beautiful one. I inhaled every bit of it, and I absolutely adored the banter and clever, sharp words between Nyx and Ignifex. I tend to enjoy the pairings that begin with more hate than love, and the tangled up emotions between these two characters was enjoyable.
He opened his eyes and stared up at me as if I were the door out of Arcadia and back to the true sky. "That's what makes you my favorite." He reached up and wiped a tear off my cheek with his thumb. "Every wicked bit of you."
There are quite a few twists in this book and while I did see some of them around the corner, there were a few that I did not expect at all and made the path that Nyx followed to be quite twisted and convoluted. There is one thing that I have purposely not mentioned in this review, since it would be revealing tad too much, but had me partly worried since it is a trope I dislike immensely, although thankfully it was not what it seemed.
Besides the romance itself, what I liked the most about this tale was that no one was perfect, no character exempt from the various shades of morality and "good" vs. "evil" is not black and white. It is all too easy for your judgement to be clouded by your own intentions and thoughts, and I thought this showed all too well with Nyx and her perceptions of other characters.
Overall, this book was intriguing and lovely, with eloquent writing and complex characters that more than made up for the sometimes tedious plot.
My Rating: ★★★★