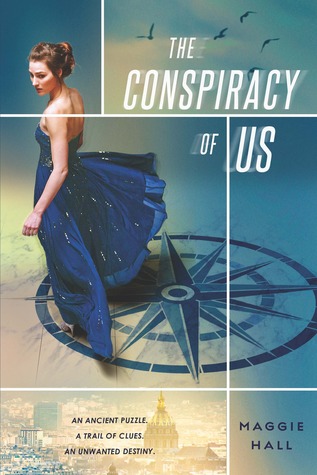 Published:
January 13th 2015
Publisher:
Putnam Juvenile
Purchase:
Amazon
/
Barnes&Noble
/
Book Depository
Goodreads
:
Avery West's newfound family can shut down Prada when they want to shop in peace, and can just as easily order a bombing when they want to start a war. Part of a powerful and dangerous secret society called the Circle, they believe Avery is the key to an ancient prophecy. Some want to use her as a pawn. Some want her dead.

To unravel the mystery putting her life in danger, Avery must follow a trail of clues from the monuments of Paris to the back alleys of Istanbul with two boys who work for the Circle—beautiful, volatile Stellan and mysterious, magnetic Jack. But as the clues expose a stunning conspiracy that might plunge the world into World War 3, she discovers that both boys are hiding secrets of their own. Now she will have to choose not only between freedom and family--but between the boy who might help her save the world, and the one she's falling in love with.
Just by the synopsis, this book promised a great deal. Conspiracy, romance, mystery, political intrigue, beautiful locations, and an adventure worthy of glorifying in addition to a comparison to Ally Carter. All of my favorite things in the world, and this book gave it to me in dazzles.
The Conspiracy of Us
spins us a tale of one girl caught up in the tantalizing
what if
, where the world is controlled by those who hold the puppet strings behind the world leaders and politics, one that harkens back to Alexander the Great. (cue the mini-shriek from my ancient history loving self. And it is something I had never heard of, refreshing to read about compared to the more prevalent historical tangents that have been used too often in books.)
First and foremost, the conspiracy. Avery is introduced to the all-powerful Circle of Twelve, a set of twelve families that control
everything
, or at the very least, hold the strings to do anything with the world. Bloodlines that run back eons, to the ancient times of elaborate tombs and whatnot. The same families that believe Avery is a very deadly piece in the chess game of world power.
Getting caught up in the whirlwind of Avery's quest to discover just what she is a part of was an exhilarating ride. Seeing Paris and Istanbul was another bonus, and I loved reading about the cities. And of course, meeting the equally charming and deadly members of the Circle as well as mysterious foes completed the merry adventure.
As the blurb suggests, there is the simmering question of a love triangle. We're introduced to two swoon-worthy boys,
as far as looks go
. Thankfully, they're both vastly different from each other, and we're not thrown into a pseudo-argument between them about Avery. That's not to say that there isn't any biting banter, because who doesn't enjoy subtle subtext behind pleasant politeness. (Excuse the alliteration, I wanted to feel fancy.) Both present interesting pieces to the puzzle that encompasses the book. I have a fondness for one over the other, since objectivity is something I have never quite mastered, but both are rather appealing, in case you must know.
Maggie has an effortless way with words that is both beautiful and easy-to-read, simply delectable.
If it was, it was a shade of toshka. A craving for something you couldn't possibly understand. A craving I was finally letting myself feel, only to wish I hadn't.
While it's not a perfect book, because there were certain instances of things that maybe should have stretched believable limits for some, but overall this book was an adventure that touched my
particular
tastes
, and I adored it. And, the ending scene was brilliant, the way things fold together—I cannot wait to see where Maggie takes us in the second book.
(And crossing my fingers that
Map of Fates
takes us to Florence, I'm dying to read about that magical city.)
My Rating: ★★★★ (4.5 stars)